The Challenge of Entrepreneurship Drives Tillage Construction's Keith Tillage to Success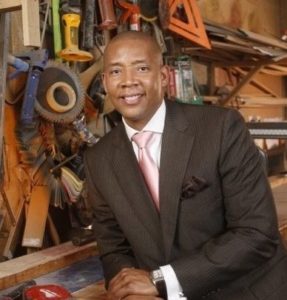 For energetic entrepreneur Keith Tillage, 47, principal of Tillage Construction Company, LLC, life has been like a train ride with the next stop eagerly anticipated, and the forward movement always to be savored.
"Sometimes the ride is bumpy," he says with a smile, "but the challenge is to learn something from every experience."
The Baton Rouge-based, multi-million-dollar company evolved from Keith's father's cabinet-making hobby. "My father is a gifted craftsman who worked as a football coach and in juvenile detention, but built custom cabinets for the love of it," Tillage. "In 1991, he turned his hobby into a business called Ken Tillage Construction Company."
Though Tillage had always yearned to be an entrepreneur himself, his first step after graduating from Southern University with a degree in computer science was into corporate America. He worked for Price Waterhouse Cooper and Texas Instruments for years, travelling all over the world and gaining a keen understanding of the inner workings of successful business.
In 2000, Tillage felt it was time for him to come home and partner with his father to help grow the family business. From there Tillage Construction Company, LLC, was born! "I started out as the chief nail-holder for my dad," he recalls.
It wasn't long however, before his corporate sales experience kicked in, and Tillage took on more and more responsibility for business development. "I put a lot of pressure on myself," he says, "but that's what I love – the excitement and uncertainty of it all. It's both frightening and intriguing. Each day brings something new; each step creates a fresh opportunity."
Over the next 17 years, the business grew steadily, taking ever bigger steps, surviving economic downturns and thriving in good times through careful planning. As they moved from residential construction to commercial and opened offices in Dallas and New Orleans, Tillage learned as much as he could about every aspect of the industry. He put in the painstakingly hard work in order to get all the necessary minority and small business licenses and certifications, including the federal government's 8A certification.
The company began building an award-winning reputation for quality work. They have been recognized for excellence multiple times by the SBA and by Black Enterprise magazine, among others.
"We tried to stay in commercial areas that were stable and recession-proof," Tillage notes. They targeted health care, education, government, multi-family, gaming and airport construction. For example, in 2014, they partnered with McCarthy Building Companies, Inc. on a three year contract at Dallas-Fort Worth International Airport.
"The aviation industry offers a lot of opportunity for construction companies," Tillage says, "and AMAC membership helps put minority companies in the center of that big tent."
"I joined AMAC as soon as I learned that Krystal Brumfield was president," he adds. "I've known her for years and followed her career. I know that she will bring good people to the table and can help us all find friends and allies."
Leave a Comment
Your feedback is valuable for us. Your email will not be published.