Express Magazine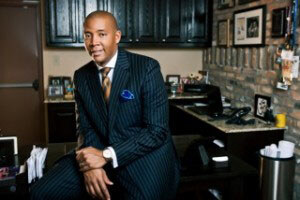 LEARN FROM THE BEST
After Keith Tillage made the decision to leave corporate America and join forces with his father in the construction business, Tillage Construction has become one of Southern Louisiana's fastest-growing, 100 percent minority-owned construction companies. Find out how a chance meeting on a plane changed his life forever.
Nicole: Tillage Construction was started in 1991 by your father, Ken. How and why did you get involved?
Keith: My father retired in 91, and when I graduated from Southern University and went to Dallas he started building cabinets full time. It evolved into residential contracting around 1998. He actually had a money dispute with clients that didn't pay him after he completed building their house. He finally let me get involved in the dispute, and I brought in attorneys and got it settled. That was my first taste of the construction business – and I still came back!
The construction idea came about from a magazine article I read on a plane. I was consulting at the time and flying weekly. On a flight to Seattle, I read an article on a woman-owned construction firm in Nashville and how she lost and rebuilt her business. I was intrigued by the SBA (Small Business Administration) programs she mentioned specifically for minorities. That day, I got off the plane in Seattle and told my dad, "If you go commercial, I'll come home." He said, "If you come home, I'll go commercial!"
Nicole: How did you get the courage to leave corporate America and join forces with your father?
Keith: I think it was a combination of things. Ignorance was a major part of my courage. Seriously, I had no idea how hard it would be and that it was a possibility I could fail.  My father is really responsible for that, he has always made me feel I could do anything!
Also, I had a mentor who put everything he had into his work just to make partner. I saw for myself that it was true that, as a black man, he had to be two times better. He was. When he finally made partner, within a year he died from cancer. It made me realize how short life can really be and that you have to do it now, or there is a chance it may not happen.
Again on a plane, I met a man who honestly made me see working for someone in a totally different light. He had me afraid to have my fate in someone else's hands. He gave me a book The Richest Man in Babylon, and I was forever changed!
Nicole: Was construction something that you had always been interested in?
Keith:  I've always wanted to be an entrepreneur. I wasn't exactly sure what the business would be, but I just felt if I found a good product I could apply my business experience and make it successful. It [construction] was something that I honestly never considered. I saw construction, like most other minorities, from the labor side.  I thought it was hot, long hours and hard work. We never were exposed to the business side of it – not just from an ownership side, but the management side. People with construction management degrees start out at 50k and can easy be at six figures in four years. I'm working now to give kids, especially minorities, another outlook.
Nicole: Your company has expanded its market to Mississippi and Texas. What was the biggest challenge that you faced throughout that process?
Keith: Well, that was the easy part for me. Working big six (top accounting firms) I got the concept that whatever expertise was needed, just bring it in. Once you can cook a dozen cookies in your kitchen, you can cook it anywhere; you know what ingredients to get and equipment you need, so you don't have to buy the same brand or from the same store.
Nicole: You have been involved with Tillage for around 12 years. What is the most important lesson you've learned?
Keith: Wow, there are so many. But if I had to choose one, it would be to never except 'no' from someone who doesn't have the ability to tell you yes
Nicole: What do you feel is the biggest misconception people have about business owners?
Keith: The biggest misconception I had was that all successful people in business were the smartest and most talented, but what I've discovered is that it's the ones who work the hardest. The ones that work without a net, the ones that their family's livelihood depends on the product or service they provide.
Nicole: What is the one thing that you wish you had known when you first got involved in the business?
Keith: Nothing! If I had how hard it was going to be, I wouldn't have dived in the way I did. If we hadn't experienced the failures, we would have never grown from our mistakes – and we couldn't appreciate how far we have come.
Nicole: What is your ultimate goal for Tillage Construction?
Keith: Wow, good question; but for me it's a working document. It's like riding a train; each stop is the stop until you get there.
Nicole: Tillage is 100 percent minority owned. Do you feel pressure from the community to continue your success?
Keith: No not really from the community, but from ourselves. We have heard the horror stories and just don't plan on making the same mistakes
Nicole: There are other business owners that have not experienced the same level of success that you and your father have received. What makes you different? Why are you successful?
Keith: Honestly, I think many business owners don't really understand the business part of their own business. An example will be the person we all know that cooks the best food, but can they really own a restaurant just because they can cook?  I see that a lot, especially in construction. The guy that was the best concrete finisher starts a business but has no idea about overhead cost, margin, controlling labor and cash flow.  So we were different. My dad understood construction, whereas I knew nothing about it. But I understood business. So it was that, along with determination. And of course luck is a friend of hard work!
Via The Express Mag
-Interview by Nicole Jocleen
Leave a Comment
Your feedback is valuable for us. Your email will not be published.