Baton Rouge Business Report – Keith Tillage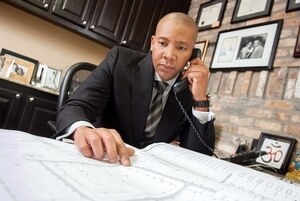 KEITH TILLAGE
Owner, Tillage Construction
By: David Jacobs
Photo By: Don Kadair
"I met an established businessman on a red-eye flight from San Francisco. He told me, 'You'll never really get there if you're lucky, because the whole key to life is continuing to move forward.' There's always something else, something larger, something you couldn't imagine before. My advice is to enjoy the ride; the beauty is in the trip itself."
AGE: 44
PROFESSIONAL EXPERIENCE: Keith Tillage left corporate America to start Tillage Construction with his father in 2000. What began as a residential construction company quickly turned its focus to commercial work, including design/build services and project management. Tillage has been named the region's Minority Small Business Person of the Year by the Small Business Administration, seen his company show up on the "Inc. 5000," and met President Barack Obama.
IN THE NEWS: Tillage Construction just opened its first office in New Orleans. The company also recently formed a joint venture with Milton J. Womack Inc., and that venture has been placed by the Orleans Parish School Board on a short list of three firms in the running to provide design-build services for the new Edna Karr High School.
Leave a Comment
Your feedback is valuable for us. Your email will not be published.